STOP ANIMAL CRUELTY

HOT SPRING & GARLAND
COUNTIES

"Animals share with us the privilege
of having a soul."
~Pythagoras~
WHO WE ARE
Stop Animal Cruelty is an all-volunteer animal welfare group that works tirelessly rescuing pets from the high-kill city shelter in Malvern, AR. We also rescue abused, neglected, abandoned and owner surrendered petsin both Hot Spring & Garland Counties. We re-home as many of them as possible ourselves or search for other "no kill" rescue groups from around the country who are willing to take pets from out of their areas to assist in re-homing. Not one treatable pet has lost its life in the Malvern shelter since late 2011, due to the tireless efforts and awesome dedication of the volunteers at Stop Animal Cruelty. For SAC volunteers, rescuing is a way of life it's not just a trend. It is not just the right thing to do it's who we are.
Stop Animal Cruelty amazingly rescued, re-homed or assisted in the re-homing of over 1,000 pets and provided over 380 people with assistance in 2017. All of which was accomplished by volunteers and with volunteer foster homes. Most people are surprised to hear we only have foster homes and no shelter. People often confuse us with the local "Humane Society" or "Animal Control" however they are different organizations entirely. Stop Animal Cruelty is the premier animal welfare organization in our area. We are a "No Kill" organization as we never have a healthy or treatable pet euthanized. Our program isn't limited to just healthy animals, particular breeds or the highly adoptable. We are proud to be an all-volunteer organization where our donations directly benefit our rescued pets as we do not pay people to provide care for our pets nor to operate our thrift store. Thankfully there is no shelter facility with large overhead costs to cover.
SAC has certified Humane Investigators who responded to over 430 reports of abuse or neglect last year in Hot Spring & Garland Counties and intervened whenever necessary by way of education, or if need be prosecution. We are now the only local animal welfare organization that investigates reports of animal cruelty as unfortunately the local "Humane Society" will no longer provide this service.
MISSION
To promote humane principles, prevent cruelty and alleviate fear, pain and suffering in animals.
Investigate complaints of animal cruelty or abuse and correct those situations by way of education, or if need be prosecution.
To provide foster homes and medical care for animals that are owner surrender in lieu of prosecution, or that are seized by law enforcement and adopt them into loving homes.
Prevent the overpopulation of domestic animals by promoting to the public low cost spaying and neutering opportunities and to educate the public on humane care and responsible pet ownership.
THRIFT STORE
Stop Animal Cruelty's Thrift Store is located at 821 Hobson Avenue, in Hot Springs and is open Tue – Sat 9am – 4pm. The Thrift Store is an important source of income for our mission. It is ran solely by volunteers therefore proceeds from sales goes directly to care for our rescued pets in foster homes. Donations of kitchen items, home décor, clothing, shoes, bedding, linens, jewelry, collectables, and furniture in good condition are greatly appreciated. Donations of dog & cat food or miscellaneous pet supplies for our rescued pets may be dropped off at the store also. All donations to our organization are tax deductible. Anyone wishing to volunteer or donate items may call our hot line 501-276-7570 for information.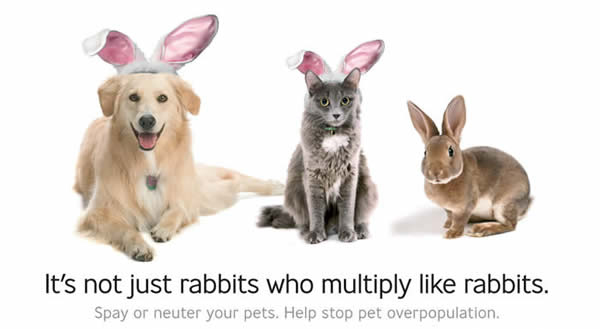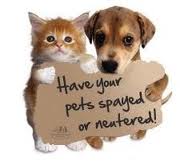 SPAY AND NEUTER
SAC's low cost dog or cat spay & neuter program supports, educates and provides our communities with low cost vouchers and clinics. We provide financial assistance to low income residents whenever possible.
If you have a dog or cat that needs to be altered, you may pick up a voucher at our Thrift Store at 821 Hobson Avenue, in Hot Springs or by calling our hot line at (501) 276-7570. Please leave your name, number and mailing address and one will be sent to you.
Watch our Facebook page (Stop Animal Cruelty in Hot Spring County, Arkansas) for upcoming low cost spay/neuter clinics and all special events.
Be a responsible pet owner...
STOP LITTERING!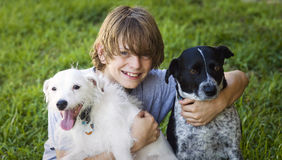 ADOPTING A FOREVER FRIEND
We have so many wonderful pets that are just waiting for their forever homes and loving families. Our pets are rescued from a high kill shelter, owner surrendering's, abandoned and from abusive or neglectful situations. All of our pets are housed in foster homes until they are adopted. Our foster homes are able to provide a safe, nurturing environment to help our pets adjust to living in a loving, caring home. Our fosters work on socializing, house training, leash walking and learn about the personalities of our pets to ensure they are successfully matched to their new homes and families.

VIEW OUR CURRENT AVAILABLE PETS: https://www.petfinder.com/pet-search?shelter_id=AR238
DONATIONS
All animal welfare organizations are not equal.
Stop Animal Cruelty is effective, efficient, focused, reliable and successful...not all are. If you pick a bad organization, there is little likelihood that your funds will be well spent effectively. Some organizations can have huge endowments or reserves and frankly don't need your money that badly. They may not spend it for years, while others desperately need your donations.
Some things you should consider when making donations to an organization.
* How much of my donation goes to the organization's payroll or shelter utilities & maintenance? With SAC, zero goes toward payroll or shelter expenses.
* Does the organization have experienced leadership? The President of SAC has over 25 years experience in animal welfare. It's Board of Directors is made up entirely of experienced animal welfare volunteers.
*Is the organization open and transparent to the public & its members? SAC has monthly business meetings which are open to anyone wishing to attend.
*What kind of impact does the organization have on my community? SAC saved 1008 beautiful lives last year and responded to 430 reports of abuse, cruelty or neglect. We provide volunteers to educate the public on the importance of spaying and neutering and provide our communities with low cost vouchers. We are available to our local schools, churches and civic organizations to teach humane care and dog bite prevention. We do not believe that any animal should be left to be euthanized at a kill facility because they aren't highly adoptable, sick, or injured. Society has already failed them at one point in time and someone has to speak up and rescue those that are defenseless and without a voice. The impact Stop Animal Cruelty has on our communities is unparalleled!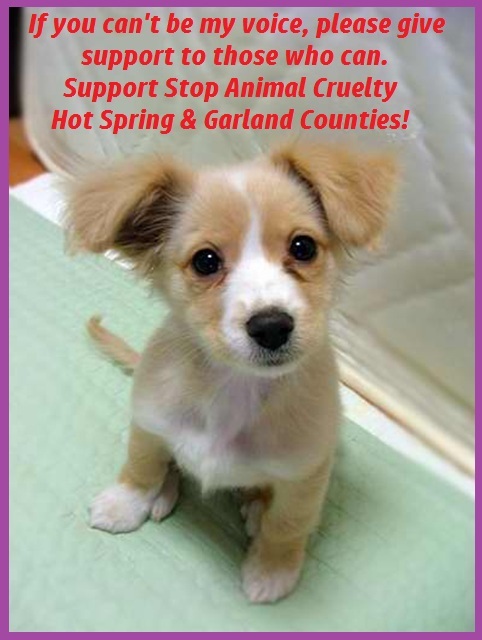 At Stop Animal Cruelty you can be assured your donations benefit only the animals in your community.
Donations are tax deductible and may be made through PayPal (no account required) by clicking the donation button below. You may also send checks to:
Stop Animal Cruelty, PO Box 1521, Malvern, AR 72014.
We are a 501 (c) (3) non profit.
"The greatness of a nation and its moral progress can be judged by the way its animals are treated."
~~Mahatma Gandhi~~